Traditour – Summer School about Translations
TradiTour, a summer school on translation issues and practices
Organization: Claudio Di Felice, Carmen Van den Bergh Italiaanse taal en cultuur – Leiden University
Helpdesk: Calogero Rampello, Axel Zanella
traditour.leiden@gmail.com
Traditour is a Summer school where students and lecturers of Italian Studies enter into a dialogue with professional translators, interpreters, researchers and editors. The summer school is part of a larger course package, supervised by Claudio di Felice and Carmen Van den Bergh who have held a course series on translation studies, with the generous help of the MAECI (The Ministry of Foreign Affairs and International Cooperation).
Traditour è una Summer School dove studenti e docenti di Italianistica dialogano con traduttori professionisti, interpreti, ricercatori ed editori. La scuola estiva fa parte di un pacchetto di corsi più ampio, sempre supervisionato dai professori Claudio di Felice e Carmen Van den Bergh che hanno elaborato una serie di corsi sugli studi della lingua italiana e la traduzione, con il generoso aiuto del MAECI (Ministero degli Affari Esteri e della Cooperazione Internazionale).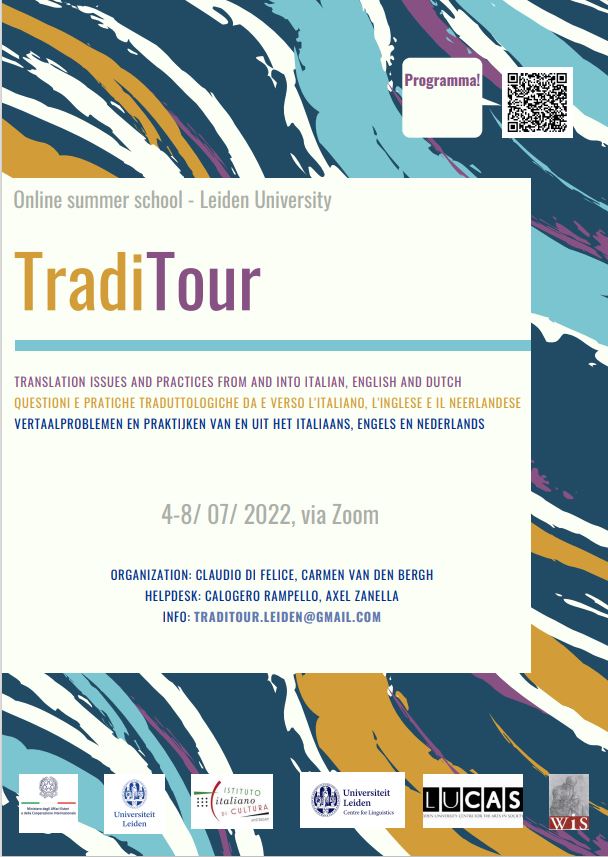 IT
Il dipartimento di Lingua e Cultura Italiana dell'Università di Leiden è lieto di annunciare TradiTour, una scuola estiva sulla traduttologia, dove verranno presentate e discusse questioni ed esempi pratici di traduzione. Le lezioni saranno in italiano, olandese e inglese. L'iscrizione è GRATUITA ma obbligatoria. Il corso sarà online, con alcuni massimi esperti che saranno i nostri "traditours", i nostri relatori ospiti – da traduttori a docenti – il  cui nome andrebbe più spesso messo in luce, sulla copertina dei libri, oppure su questa nostra locandina.
>>> Clicca qui per iscriverti in anticipo a questo incontro. Dopo la registrazione, riceverai un'e-mail di conferma contenente le informazioni per partecipare alla riunione.
NL
De afdeling Italiaanse taal en cultuur van de Universiteit Leiden is verheugd om TradiTour aan te kondigen, een zomerschool over vertaalkwesties en -praktijken van en naar het Italiaans, Nederlands en Engels. Kijk naar het programma om na te gaan wie de sprekers zijn en in welke taal je het college kan volgen.
Inschrijven is GRATIS maar graag even op voorhand aanmelden. De cursusreeks is volledig online, met vooraanstaande experts als gastsprekers – van vertalers tot docenten- wiens naam meer op boekcovers of affiches, zoals deze, zou moeten verschijnen.
>>> Klik hier om je alvast al in te schrijven voor deze bijeenkomsten. Na aanmelding ontvang je een bevestigingsmail met daarin een link die je toelaat de gewenste bijeenkomst te volgen.
ENG
The department of Italian Language and Culture at Leiden University is pleased to announce TradiTour, a summer school on translation issues and practices. The lectures are given inItalian, Dutch, and English. Enrollment is FREE but mandatory. The course will be fully online, with leading experts as guest speakers – from lecturers to translators- which name should be mentioned more often on book covers and posters, like this one.
>> Click here to register in advance for this meeting. After registering, you will receive a confirmation email containing information about joining the meeting.
TradiTour – Programma
—————————
04/07
9.30 – 11.30
Pierangela Diadori (Università per Stranieri di Siena)
Tradurre per il turismo: da e verso l'italiano
Chair: Claudio Di Felice
15.00 – 17.00
Jan van der Haar (vertaler Italiaans-Nederlands)
De (on)vertaalbaarheid van Dolores Prato
Chair: Carmen Van den Bergh
—————————
05/07
9.30 – 11.30 Susana Valdez (Universiteit Leiden)
Subtitling for streaming
Chair: Claudio Di Felice
15.00 – 17.00 Franco Paris (Università di Napoli "L'Orientale")
Tradurre narrativa e saggistica, tra messaggio e stile
Chair: Carmen Van den Bergh
—————————
06/07
9.30 – 11-30 Heidi Salaets (KU Leuven)
Je bent geen tolk als je twee talen spreekt. Je kan het wel worden. Het belang van zorgvuldig tolken en duidelijke communicatie
15.00 – 17.00 Charles Le Blanc (University of Ottawa)
Una Storia naturale della traduzione
Chair: Claudio Di Felice
—————————
07/07
9.30 – 11.30 Francesca Terrenato (Università di Roma "La Sapienza")
Translating the poetic word. Ilija Leonard Pfeijffer, Anneke Brassinga and Antije Krog in Italian (and English)
Chair: Claudio Di Felice
15.00 – 17.00 Dolores Ross (Università di Trieste)
Come perfezionare alcune strategie traduttive basandosi sulle differenze tipologiche fra la lingua italiana e quella neerlandese?
Chair: Claudio Di Felice
—————————
08/07
9.30 – 11.30 Manon Smits (vertaalster)
Lastige vertaalkwesties vanuit het Italiaans
Chair: Carmen van den Bergh
—————————
15.00 – 17.00 Tavola rotonda/Panel internazionale
I traduttori di Elena Ferrante
con Mauricio Santana Dias (Traduttore verso il portoghese/ brasiliano), Demetra Dotsi (Traduttore verso il greco), Ryosuke Iida (Traduttore verso il giapponese), Manon Smits (Traduttore verso l'olandese), Johanna Hedenberg (Traduttore versi lo svedese), Celia Filipetto (Traduttore verso lo spagnolo) e Alon Altaras (Traduttore verso l'ebraico).
Chair: Carmen van den Bergh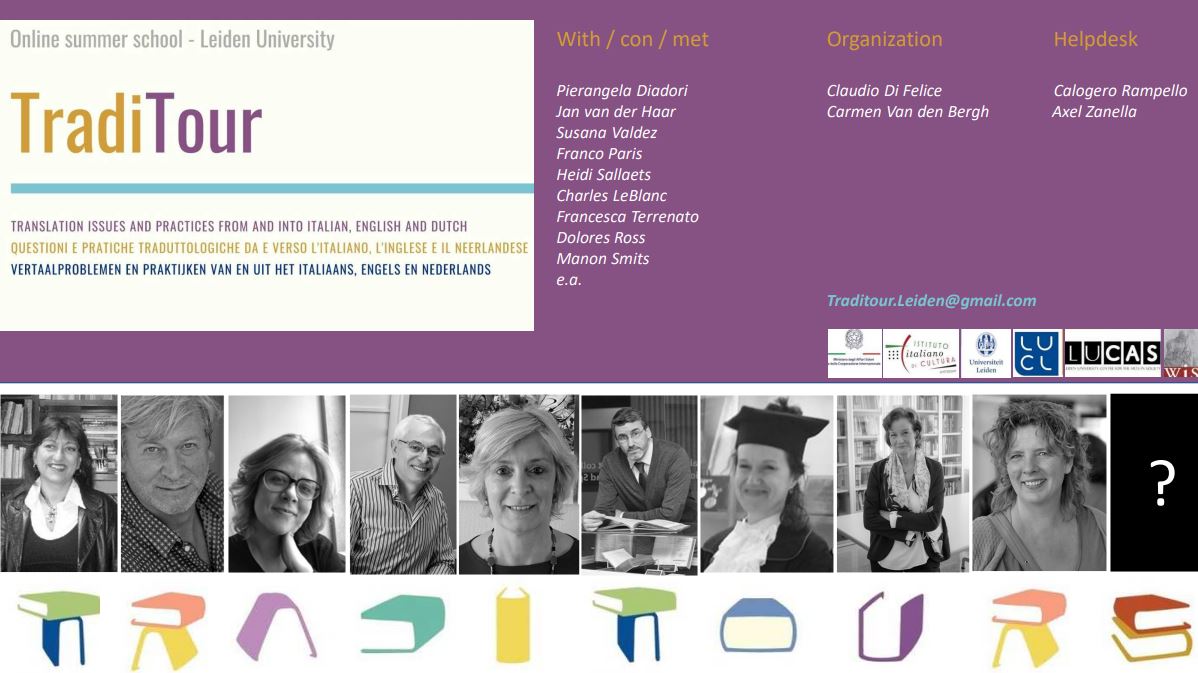 Follow us on FACEBOOK:
Traditour, DAY 1
Traditour, DAY 2
Traditour, DAY 3
Traditour, DAY 4
Traditour, DAY 5
Please register here/ Iscriviti qui/ Schrijf je hier in:
https://unige.zoom.us/meeting/register/u5wsce-urTwvHNIPzGdTyThguI1eGSqsg7UJ?fbclid=IwAR2V6Ergdcw942VPaIYiIsLst15fBvk7RVeWJQuAN2steFz6e7Wq2NsVVTI