6 settembre 2021 – Dante Day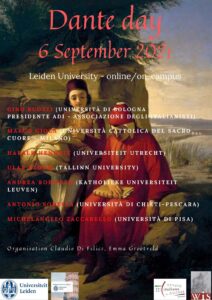 2021 marks the 700th anniversary of the death of Dante Alighieri. In order to celebrate the great poet, the Italian department of Leiden University announces a day of study dedicated to him. The event is in collaboration with the Italian Cultural Institute in Amsterdam and the association Werkgroep Italie Studies.
The Dante Day will be held at the Leiden University on 6 September 2021 from 13.00 until 17.00 (Gravensteen building).
Data: 6 settembre 2021
Orario: 13:00 – 17:00
Aula: Gravensteen, 0.11 (Pieterskerkhof 6, Leiden)
Given limitations due to anti-Covid-19 protocols, enrollment (and eventual disenrollment) is obligatory for attendees who want to come to Leiden. Inscriptions can be submitted within 31 August 2021 via the email address italiaansleiden@gmail.com.
The event will also be available on the Zoom digital platform at the address https://universiteitleiden.zoom.us/j/63581679185?pwd=QXh6VmNRdlF4TUsrM0VraWRSVmpidz09 (Meeting ID: 635 8167 9185, Passcode: Dante@2021).
---
Programma Giornata dantesca / Dante Day @ Leiden
Università di Leiden, Dipartimento di lingua e cultura italiana
6 settembre 2021
13.20 apertura
Claudio Di Felice – co-direttore Dipartimento di italiano Università di Leiden
Paola Cordone – direttrice Istituto Italiano di Cultura Amsterdam
Maria Forcellino – Presidente Werkgroep Italië Studies
Sessione 1: 13.30-14.40 (modera Emma Grootveld – Universiteit Leiden)
13.30 Antonio Sorella – Università di Chieti-Pescara
Dante e il tema del purgatorio nel Quattrocento
13.50 Marco Giola – Università e.Campus
Qualche novità (vecchia e nuova) nel testo della Commedia: vent'anni di filologia dantesca
14.10 Andrea Robiglio – KU Leuven
A proposito della cosmologia dantesca: la Quaestio de aqua et terra
14.30 discussione
14.40 pausa caffè
Sessione 2: 15.00-16.10 (modera Gandolfo Cascio – Universiteit Utrecht)
15.00 Michelangelo Zaccarello – Università di Pisa
Un progetto di mappatura semantica dei commenti danteschi. L'Hypermedia Dante Network
15.20 Ülar Ploom – Tallin University
Gioie e sofferenze nel tradurre Dante
15.40 Raniero Speelman – Universiteit Utrecht
Primo Levi e Dante
16.00 discussione
16.10 pausa caffè
Sessione 3: 16.30-17.40 (modera Claudio Di Felice – Universiteit Leiden)
16.30 Harald Hendrix – Universiteit Utrecht
La memoria dantesca nel tessuto urbano e paesaggistico italiano fra Otto e Novecento
16.50 Gino Ruozzi – Università di Bologna, Presidente ADI
Narratori contemporanei e Dante
17.20 discussione
17.40 chiusura