22 novembre – Giovanni Pietro Vitali

20-22 November 2019
Leuven – Brussels – Leiden
DH/Lit
Digital Humanities & Literary Studies

With Dr.
Giovanni Pietro Vitali
Marie-Curie Fellow at the Universities of Cork, Reading and New York
Scientific and Organizing Committee
Andrea Penso
(FWO, Vrije Universiteit Brussel)
Carmen Van den Bergh
(FWO, KU Leuven, Leiden University)
Three days of workshops on DH/Lit
La poesia nello spazio – dalla città al digitale [IT]
Mercoledì 20 novembre, ore 16-18
Università di Lovanio/ KU Leuven, aula LETT. 05.15
Erasmushuis, Blijde Inkomststraat 21 (Belgio)
(2) A Research Seminar on digital scholarship [ENG]
Thursday 21 November, 10-16h
* LECTURE 10u-12u: Last Letters from the World Wars. Analysing Texts of Conflict through a Digital Approach. VUB—Room I0.03 Pleinlaan 2 1050 Elsene (Belgium)
* HANDS ON WORKSHOP 14u-16u: Tools and Methods for Digital Text Analysis.
VUB—Room I0.01, Pleinlaan 2 1050 Elsene (Belgium)

(3) Cartografie: Mappare l'Olanda letteraria [IT]
Venerdì 22 novembre, ore 11-13
Università di Leiden, Biblioteca, UB- Aula Computer
Witte Singel 26-27 (Paesi Bassi)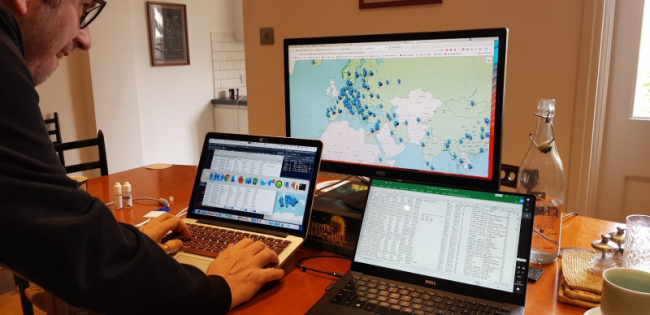 Giovanni Pietro Vitali is a Marie Curie Research Fellow at University College Cork, the University of Reading and New York University. His project deals with a linguistic and thematic analysis of the last letters of people sentenced to death to death during the First and the Second World Wars. Previously, he worked several years in France as a lecturer of Italian Studies at the University of Lorraine and the University of Poitiers. Recently he became associated researcher at University of Oxford where he is the Digital Humanities advisor of the project Prismatic Translation (https://prismaticjaneeyre.org/).
He holds a Ph.D. in Linguistic Sciences at the University for Foreigners of Perugia, and in Italian Literature at the University of Lorraine in a dual doctorate international program. His thesis is devoted to the analysis of proper names, notably noms de guerre, in the works of partisan author Beppe Fenoglio.
His main research interests revolve around Digital Humanities, Linguistics, Dialectology, Onomastics, Contemporary Literatures and Musicology. He is about to publish a new monography on the language and themes of Italian political music entitled Voices of Dissent. Interdisciplinary Approaches to New Italian Popular and Political Music.
One of the main aims of his research activity is to describe the contemporary perception of cultural and social events of the historical heritage.
Free entrance, no reservation needed.
For questions and information, please contact Carmen Van den Bergh c.van.den.bergh@hum.leidenuniv.nl