"Italy Today" – 16/10 Den Haag
"Italy Today".
Urgent matters for Discussion: Economic Growth, Populism and Migrations.
Leiden University, Campus The Hague
Academic and Institutional Meeting.
The event is organised by the Dutch Ministry of Foreign Affairs and the Department of Italian Studies at Leiden University.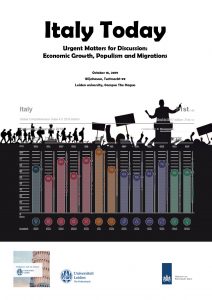 Based on the 2018 Global Competitiveness Report, Italy scores extremely high in the domains of health and skills, large market size, infrastructure and a top-tier innovation capability. On the other hand its financial system and its public-sector administration continue to be a source of weakness. Although the country's GDP is growing at 1.5%, the fastest rate since the 2008's financial crisis, Italy remains the advanced economy that is growing the least.
The idea of this dialogue is to provide an overview of the current political and socio-economic situation of Italy nowadays, starting from a set of urgent issues and canonical narratives which the country is associated with and bring them to the table for discussion. (e.g. Rise of populism? Migration management? Brain drain by unemployed youngsters? Problems between North and South?).
These extremely delicate issues will be framed and nuanced by professionals and specialists in the field.
The meeting will consist of a morning session with a series of four short presentations (15-20 minutes each), divided into two panels (on "politics" and on "migrations"), followed by a panel discussion wherein
the experts will debate the key issues, challenging each other's views.
Networking event during the lunch break.
* Registration link will be available soon
* Free entry. Everybody welcome.
The conference on "Italy Today" is commissioned by the Dutch Ministry for Foreign affairs, and is organised by the Department of Italian Studies of Leiden University.